HENNEPIN COUNTY SHERIFF FOUNDATION SCHOLARSHIP FUND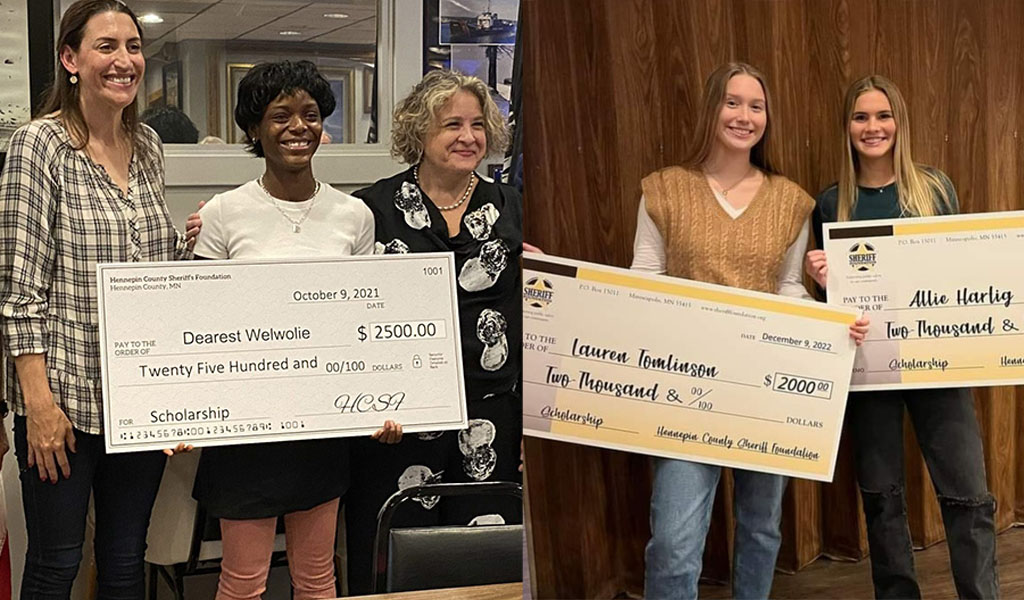 What is the HCSF Scholarship Fund? The Hennepin County Sheriff Foundation provides scholarship awards to full-time undergraduate students in the field of Criminal Justice.
What are the eligibility requirements for applying for this Scholarship?  Candidates who are interested in applying must meet the following eligibility requirements:
Must be enrolled or preparing to be enrolled at an accredited two- or four-year college located in Minnesota
Must be pursing a degree in a field related to Criminal Justice
Selection will be based on an interview with the Foundation, an essay and two recommendations from teachers
Preferred GPA of 2.8 or higher. Lower GPA's may be considered and weighed against other application criteria
Are certain students given preference over others? Yes, in reviewing students who are eligible for this this scholarship and meet the above criteria, preference will be given to:
Explorers, Rebound, Boys and Girls Club participants
NOTE: Immediate family of the selection committee, board officers or directors or contributors to the scholarship fund of the Foundation are NOT eligible for scholarships.
How are Candidates Selected?  Candidates selected will be at the discretion of the Hennepin County Sheriff Foundation Selection Committee.  The Selection Committee will vote and finalize with entire Foundation Board for final approval.  The Foundation reserves the right to amend scholarship eligibility criteria.  The Foundation also reserves the right to withdraw an award if recipient is no longer eligible.
What is the actual scholarship amount?  For students that are selected they will receive 50% of the cost of tuition, $2000 or more per year depending on fund balance.
Can I receive the scholarship more than one year? Second-year awards may be made if the student maintains a GPA of 3.0, stays in the field of Criminal Justice and maintains contact with their HCSF mentor.
How do I apply for the Sheriff's Scholarship Fund? Criminal Justice / Law Enforcement – Information Package
Deadline:
The completed application and the supporting items listed above must have been postmarked no later than July 14th.
Send your applications to:
Hennepin County Sheriff Foundation
Scholarship Program
PO Box 15011
Minneapolis, MN  55415
Call 612-339-5600 with any questions.
Email: info@sherifffoundation.org 
Thank you for your interest in the Hennepin County Sheriff Foundation, Sheriff's Scholarship Program.
————————————————————————————————————————-
Application Process:
Interested candidates must submit the following:
Transcript from high school or college.
Two letters of recommendation from a teacher, counselor or advisor.
Completed scholarship application form with attached answers to essay questions.